About us - history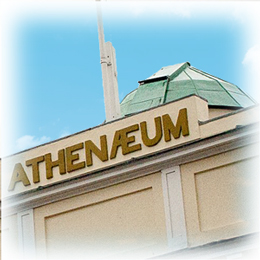 Formed in November 2015, and based in Bury St Edmunds in Suffolk, The AAA meets on a fortnightly basis to discuss the solar system and the stars beyond.
We are open to amateur observers of all ages and abilities for the enjoyment of the wonders of the universe. One of the many aims of the AAA is to restore and use the observatory and its telescope, originally installed in 1859-60, on the roof of the Athenaeum (pictured).
The Athenaeum Observatory
The green dome which graces the roof of Bury St Edmunds' Athenaeum building is an observatory constructed by the Victorians in the year of Donati's spectacular comet. The astronomical dome contains a functioning telescope and its construction was inspired by George Biddell Airy and Lord Arthur Hervey.
For a more detailed history of The Bury St Edmunds Athenaeum Observatory there is an authoritative and informative article in our Resources section, written by local astronomer, Martin Mobberley, and Kenneth Goward.