Membership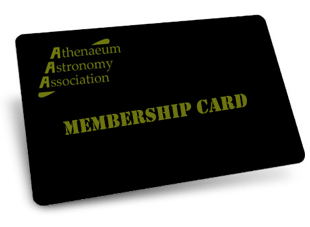 AAA membership lasts for 12 months and includes:
fortnightly access to our Whepstead dark-sky site, weather permitting
attendance at all meetings and special events throughout the year
notes of each meeting
access to Talk Space, our private online discussion forum
publication of your astro-photographs in the members' gallery.
How do I join?
The AAA membership year begins during the first week of September. Members may join at any point during the year on a pro rata basis.
To join The AAA please complete a membership application form (hard copies available from The Treasurer) and hand to The Treasurer, along with your payment, at one of our meetings.
We currently accept payment by cash, bank transfer (details available from The Treasurer) or cheque (made payable to 'The Athenaeum Astromomy Association').
Not sure?
If you're not sure whether you want to commit to a year's membership, you are welcome to come along to your first two meetings at no cost while you make up your mind.
For membership enquiries please email secretary@3a.org.uk.
Membership categories
| | |
| --- | --- |
| CATEGORY | ANNUAL FEE |
| Adults (over 18s) | £25 |
| Children (under 18s) | Free |
| Couples | £40 |
| Full-time students | £15 |
| 'Friends' | £15 |
The membership year runs from the first week of September, with fees chargeable on a pro rata basis. Please confirm the applicable pro rata fee, by contacting the AAA Treasurer before making any payment.
In accordance with our Child Protection Policy, which adopts the FAS Child Protection Guidelines, any under-16s attending AAA meetings or events must be accompanied by an adult member. 16-18 year-olds wishing to attend meetings unaccompanied, must provide a permission statement signed by their parent or guardian.
A couple must be resident at the same address.
A 'Friend' of the AAA is someone who is interested in supporting the Association's observatory Restoration Project, but is not involved in practical astronomy with the group. Friends are, however, entitled to attend two astronomy meetings per year at no additional charge. Friends' fees will be used to support the Restoration Project, unless you indicate on the membership form that you are happy for it to be allocated at the discretion of the AAA committee.